See a Scam? Report it - Research it, Report it, Share it at Scamalot

Online, by Post or just in the High Street - if you see a Scammer or Fraudster or Con-man working hard to defraud people - often the most vulnerable - the elderly and financially naive - you need to let the rest of the world know.
The Scamalot Scam Tip Off Report is the best way to publicize a scam that you've seen (anonymously, if you like) or a scammer that has tried to rip you off.

New! Try our Password Checker - a new option in the Anti-Scam Toolbox
Has Scamdex or Scamalot helped you? Consider making a donation so we can keep running. Advertizing revenue makes up a tiny amount of our expenses and we have bills to pay too. Support us with a one-off contribution.
= RandAd('resp'); ?>
Scam Classifications
Scamdex sorts it's huge archive of Email Scams and Scam Tip-Off Reports into common types, including Lottery, Nigerian, Classified, Phishing, Dating, Jobs and Generic.
Scam Email Archive
Since 2004, our sister site, Scamdex has been collecting and classifying and publishing all the Scam Emails we have received. That's around One Hundred Thousand Emails! Take a look and see the kind of tricks these scumbag people use to part you from your money.

Thanks and Kudos go to:
Scamalot wishes to thank
MaxMind
for the use of it's GeoLite2 Geo-location database. We use it to investigate scams and scam reports and to limit comment spam. See more at
http://www.maxmind.com
.
We also want to give a big Hand to the folks over at
Akismet
. We query and contribute to their database of 'bad' links/actors to help limit comment spam and junk contributions. More at
https://akismet.com
.
Scam Tip Off Statistics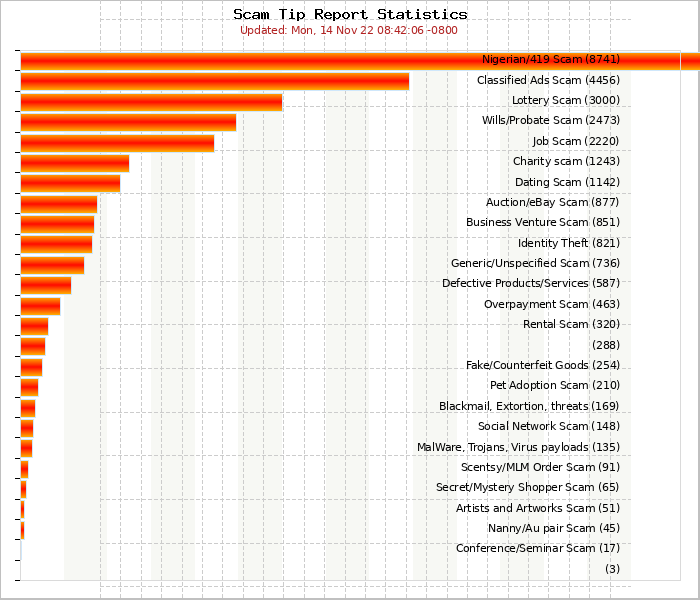 Analysis of the Scam Tip Off reports shows that Classified Ads (Craigslist and other local websites) continues to tbe the major source of scam solicitations worldwide.
Spam promoted email scams make up the majority though, with the various Lottery and Nigerian-type scams.
Job scams and Dating scams are still very common. Note that a lot of scams tend to be a mixture of these so clear classification is difficult.
Get The Word Out
Scamalot relies on Search Engines, Social Media and plain old Word-of-Mouth to get it's message out. Check that your parents and other vulnerable family members are up to speed on online scams.
Follow Scamalot on Twitter, Facebook and in the Scamdex ScamBlog

Scam Email Feed
A continuously updated list of the latest Scam Emails:
Subscribe
.
• Raw email source
Ask for Details
.
Scam Tip Off Reports Feed
See what scams are being seen in the community
Subscribe
The ScamBlog
Scamalot Blogs about Scams (and anything else he wants)
Subscribe
Scamdex on Social Media
DUTY OF CARE
Scamdex believes
organizations utilizing the Internet have a Duty of Care to their users, AND to those victimized by people who use those services for fraudulent means. "
READ BEFORE USING WESTERN UNION
If you are ever asked to send money to someone you don't know personally, Western Union is a Bad Idea!
Especially if the person wants the money quickly, says he can't accept PayPal or other online payment methods, and especially if it's for a big ticket item. In most cases, WU is the same as cash, which is why it's the Scammer's Best Friend.
It's not such a great deal if the laptop never turns up and your money is gone!
See here:
CraigsList
and here:
eBay
and here:
Western Union